This 50-page pocket guide provides policymakers, educators, journalists and the general public an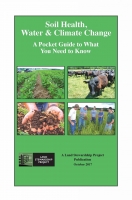 introduction to the latest innovations in science and farming related to building soil health, and how implementing such practices on a wide scale basis can make agriculture a powerful force for creating a landscape that is good for our water and our climate.
Produced by LSP's Policy and Organizing Program, this booklet provides guidance to townships on using the Minnesota Interim Ordinance and other tools in the state's Municipal Planning law. It also contains an extensive list of resources. This is the 3rd edition of this publication; it was originally written in 1997 and updated again in 2006. The 2018 version includes significant updates, including information on frac sand mining operations. 65 pages. Paper copies available from LSP's Policy and Organizing Program by calling 612-722-6377, or e-mailing bking@landstewardshipproject.org.
This is an LSP report on how a little-known law exempting manure storage facilities from property taxes unfairly benefits large-scale livestock operations.
This is the nationally-known quarterly publication of the Land Stewardship Project, a private, nonprofit organization.
In 2012 the Land Stewardship Letter published a series of articles on the groundbreaking work being done by a team of farmers, conservationists and scientists in North Dakota's Burleigh County to combine soil health, profitability and greater overall community sustainability. This special report combines those articles and information on additional resources.
In January 2010 the Land Stewardship Project and Pesticide Action Network North America collaborated on a special report on atrazine, one of the most commonly detected pesticides in U.S. ground and surface water. This report offers a review of the many environmental and health concerns surrounding atrazine and describes how its inventor and primary manufacturer, Syngenta, has resisted attempts to conduct extensive research on the chemical and regulate its use. The report also highlights what farmers can do to end their reliance on atrazine.