March 7, 4 pm-8 pm
East Side Enterprise Center, 804 Margaret Street, Saint Paul, MN 55106
Google Map »
RSVP to Scott DeMuth, LSP, 320-269-2105, sdemuth@landstewardshipproject.org
The Land Stewardship Project (LSP) Innovative Market Forum, hosted by the LSP Farm Viability Steering Committee, will feature a panel of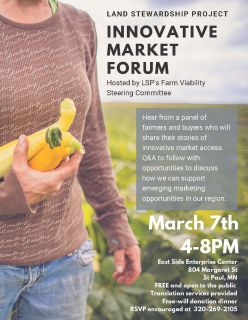 farmers who will share their stories about innovative ways to gain market access. Buyers who play a decision-making role in the supply chain will also participate in the panel discussion. The panel will be followed by a Q & A and opportunities to discuss how we can support emerging marketing opportunities in our region.
This event is free and open to the public; translation services provided. There will be free-will donation supper. RSVP by calling 320-269-2105 or fill out this form.
To view the flyer, click here.
For more information, contact LSP's Scott DeMuth at 320-269-2105 or via e-mail.