Finding the weakest link in a farming operation is often easier said than done. But sometimes a few energetic pigs accomplish the task quite nicely.
"Today, fencing suddenly moved up the list as our weakest link," quips Paul Freid on a brisk day in early May. He and his wife Sara, along with their 11-year-old daughter Clare, had just spent the morning grappling with that laggard link on one corner of their farm near Lake City in southeastern Minnesota. Electrified fencing was supposed to separate two groups of pigs they raise on pasture, but the animals weren't buying into the plan and kept breaking through.
"So we decided to put up a hard fence out there," explains Paul over lunch. "I didn't want to, but Sara and Clare thought it was a good idea and made a good decision. When your 11-year-old has better decision-making skills than you do, it's enlightening."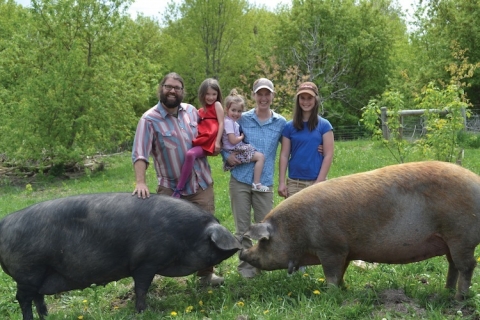 Such communal decision-making, albeit in this case on a micro-scale, has been a key part of the Freid operation virtually from the time the family purchased 51 ridge-top acres a decade ago. Being able to plan and set goals as a group is particularly important because this operation is set up as a Catholic Worker Farm, which means it welcomes members of the community to take part in producing fresh, sustainable food and taking care of the land while working for social justice. It's also been important because the Freids' original farming goals have been modified considerably since they first dreamed of making a living on the land.
Today, besides the pastured pork operation, the farm has a vegetable enterprise, which markets products through local farmers' markets, group homes and schools, as well as a small Community Supported Agriculture operation that makes fall deliveries. The Freids, working with current community member Jake Olzen, are also setting up a permaculture operation that will eventually consist of fruit and nut trees, as well as berries. Arriving at this mix of enterprises has not been happenstance. It's come about via trial and error and periodically stepping back to assess which enterprises are paying their own way. It has also met tapping the brakes a bit to preserve quality of life for the Freids, who, besides Clare, have two other daughters: Louise, 5, and Millie, 4.
The couple credits their ability to decipher weak links both on a small and large scale with the training they received through the Land Stewardship Project's Farm Beginnings course, which they graduated from in 2011. That training, coupled with their experience in LSP's follow-up class, Journeyperson, exposed them to making decisions and setting goals based on not only the land's carrying capacity, but the family's quality of life and where their farm fits in the wider community. Such a management strategy can come into play in a range of situations: from figuring out how best to fix fence on a spring day to strategizing a five-year marketing plan.
"That was eye-opening for me," says Sara of the decision-making skills they learned through the courses. "It helps us decide how to change what we're doing to reach our goal as well as provides the reinforcement to say, 'You know what? Nope, that's not working.' "
Happy Energy
Having such confidence is particularly important when plunging into an unfamiliar way of life. Neither Paul nor Sara, both 39, come from farming backgrounds. What they do have is a love of working outdoors and a surplus of positive energy. Sara recalls being struck by Paul's enthusiasm for tackling challenging tasks from the first day she meant him in a college calculus class.
"It was 8 o'clock in the morning and Paul had lots of energy and I was like, 'Who's this kid in the back who's cracking jokes and is very positive and joyful?' " Sara recalls.
After graduating from college in 1999, they married and Paul taught school for a few years while Sara was with the Catholic Charities Volunteer Corps. In 2003, they moved to a Catholic Worker House in Winona, Minn. While there, the couple had an opportunity to work on a small vineyard across the Mississippi River in Fountain City, Wis., which whet their appetite for working on the land.
When the Freids bought the land near Lake City a few years later, they were determined to establish their own vineyard and winery. For the first few years, they focused on building a house and outbuildings, and getting other infrastructure set up on the site (it had been part of a larger farm and was pretty much open land). Both also work off the farm for an educational software company owned by Sara's family in nearby Lake City.
One thing that became clear was that even though Paul and Sara had the land and a good idea of what they wanted to do with it, they lacked a clear plan on how to proceed. Having a strategic, methodical way of setting goals and making decisions is particularly important since the Catholic Worker Farm involves other people living and working there—the Freids have hosted seven community members over the past several years.
So during the winter of 2010-2011 they traveled to River Falls, Wis., a couple of times a month to take Farm Beginnings classes. The classes, which are led by farmers and other agricultural professionals in the community, emphasize developing solid business and marketing plans, as well as identifying what strengths each student brings to a farming enterprise. In addition, the class provides an opportunity to network with established farmers via workshops and on-farm educational events.
The Freids say one of the most invaluable things they got out of the course was an introduction to Holistic Management. Developed by Allan Savory over three decades ago, this is a decision-making framework that has helped farmers, ranchers, entrepreneurs and natural resource managers from around the world achieve a "triple bottom line" of sustainable economic, environmental and social benefits.
Farm Beginnings also opened another critical door for the Freids, giving entry to a different farming future than they had planned. As participants in the course, they had their registration fee covered for the 2011 MOSES Organic Conference in La Crosse, Wis. There, they sat in on a presentation by Mark Shepard, whose New Forest Farm in southwestern Wisconsin has become a model for integrating, or "stacking," various enterprises utilizing permaculture systems such as fruit and nut trees.
Something about Shepard's presentation clicked with the Freids. They had picked the land near Lake City because its slopes made it perfect for raising wine grapes, but suddenly a vineyard seemed too limited—they could see many more possibilities for those rugged acres. Paul taps into his faith to describe what happened after being introduced to Shepard's ideas.
"We felt the spirit was calling us to broaden our horizons and be a more diversified farm," he says. "Since then, I think the spirit has called us to grow vegetables, raise hogs, and move toward a permaculture style farming system."
Shepard eventually helped the Freids design the undulating terrace-like landscaping needed to establish the kind of permaculture system they wanted. This consists of laying out lines of earthen berms along the contour of the land upon which trees are planted. Between the berms, swales help capture water. Besides making good use of precipitation, such a system allows more production on a relatively small amount of acreage
Community Decision-Making
A few years after taking Farm Beginnings, things were starting to click for the Freid operation. They had a vegetable and pasture livestock enterprise established, as well as a more refined idea of where the farm was headed. Just as importantly, Olzen had joined the operation (the Freids own the land, but Olzen is a partner in the farm business). Now that they were making decisions as a community, the Freids and Olzen felt it would be beneficial to brush up on Holistic Management together. So in 2013 all three took LSP's Journeyperson, a course designed to support people who have several years of managing their own farm under their belt, and are working to take the business to the next level. Besides a deeper exposure to Holistic Management, the course consists of advanced farm business planning as well as a matched savings account that allows participants to start putting together capital for investing in their farm.
"We were not stalling necessarily—just getting really bogged down with day-to-day farming life," recalls Sara. "So that was the perfect time to take Journeyperson because it really focused us on making a five-year plan, a 10-year plan, and start thinking about the steps we needed to take to get there."
Taking the course also allowed them to team up with a Farm Business Management instructor through Riverland Community College. This relationship has given them solid grounding in accounting, something Paul and Sara had next to no experience in.
Making it All Fit Together
Whether running enterprises through a holistic decision-making process or doing some good old-fashioned number-crunching, the Freids have learned over the past decade how to determine not only what enterprises fit their life and land, but which do not.
For example, it turns out for now chickens fit into the latter category. They raised broilers for a few years for direct sale to consumers and the end product got rave reviews. But the birds were difficult to sell at the farmers' market and took up a lot of room. In the end, they examined the bottom line and realized the chickens weren't generating enough cash flow to justify all the trouble and distractions.
"It's a hard decision to make because people tell you it's great chicken," says Sara. "But it may just be a vocal minority."
But hogs, somewhat to the surprise of the Freids, pass the financial and agronomic tests with flying colors. Their seven sows are farrowed in February in huts placed inside a high tunnel financed through the Journeyperson matched savings program. During the growing season, the pigs produced in the winter are integrated into the rest of the operation as much as possible. On a recent spring day, the family showed off 10 young market hogs that were foraging via strip grazing in the permaculture swales. This system consists of moving a portable pen every day so the animals regularly have fresh access to a "pig mix": kale, millet, turnips and field peas. Come fall, the pigs are used to clean up the vegetable plots. The animals are pulling their weight by fertilizing and tilling the ground while getting rid of rotten, leftover vegetables. Just as importantly, there's a good demand for the naturally raised pork.
The pigs even fit the quality of life criteria that is so important to the farm's holistic goals. "I love watching the pigs out back," says Paul as he motions toward a couple of sows in a wooded pasture. "I think it's so fun." But he's quick to add that the hog enterprise wouldn't fit if it didn't dovetail with the vegetable farming. Currently, the hogs are "50 percent" integrated into the rest of the operation. "I think next year we'll be 53 percent there," Paul adds with a laugh.
In other words, their farming goals are to grow steadily, rather than in a burst. Sara and Paul both still get the bulk of their income from working for the family educational software company, and Olzen works fulltime in construction. Much of the farm is rented out for hay production, and they have been incrementally taking over production of those rented acres as pig pasture, permaculture plots and gardens are added.
"Every new enterprise means you have to be better at five different things," Paul says. "We're not going to just flip a switch and one day be successful farmers. It's going to be a step-by-step process."
Brian DeVore is the editor of the Land Stewardship Letter.