When Lauren Barry pulls a weed or harvests a tomato this summer, she's doing so on a one-acre plot of land steeped in history. Not the ancient, dusty kind that may or may not have relevance to the current situation, but history rooted in recent growing seasons, when other beginning farmers faced the same meteorological, agronomic and economic challenges Barry is grappling with in her first foray into producing vegetables as an entrepreneur, rather than an employee or student.
"All that information just adds more pieces to the puzzle," says Barry, 26.
As she says this, the beginning farmer is sitting in the kitchen of A to Z Produce and Bakery near the western Wisconsin community of Stockholm. Down the hill is that one-acre plot, a mini-farm of sorts that A to Z's Robbi Bannen and Ted Fisher have offered to beginning farmers for the past four years. Bannen and Fisher, who operate a farm, "pizza night" and bakery on 80 acres of high ground just a few miles from the Mississippi River, see that acre as a way for new farmers to make mistakes, but not the kind that can squash a dream before it gets off the ground.
"I just feel like if you can somehow find a way to do those first few years without incurring debt that you can't pay off within the year, the kind that eats you, then you can avoid fatal errors," says Bannen.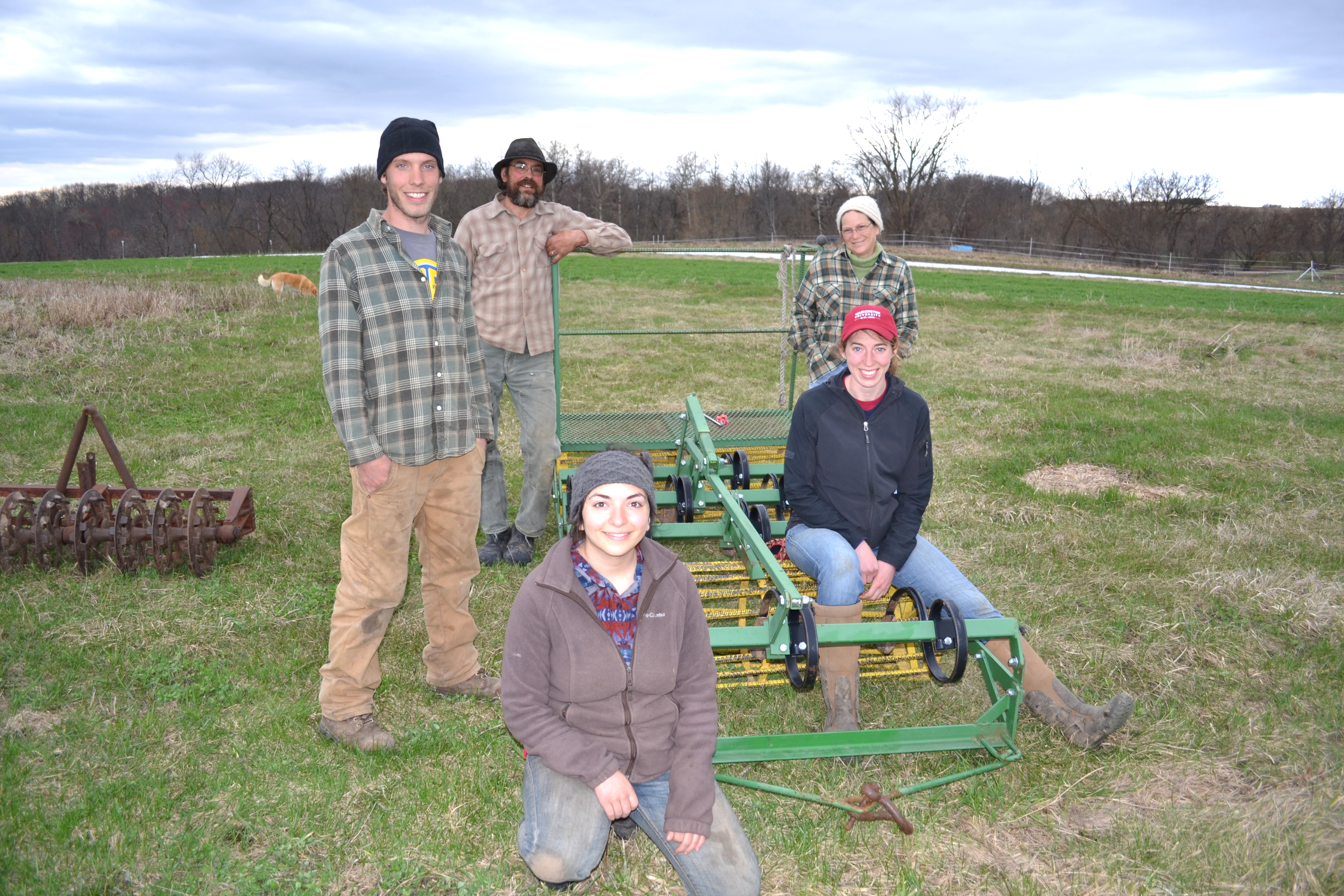 As it happens, this "incubator acre" has turned out to be a valuable resource for several graduates of the Land Stewardship Project's Farm Beginnings Program, a hands-on course taught by established farmers where participants learn goal-setting and business planning, as well as innovative marketing and financial management skills.
The A to Z plot has become a stepping-stone for neophytes looking to bridge that gap between training/internships and actually raising food for the market as an independent business owner.
"We wanted to do something more than just intern," says Anna Racer. She and her husband Peter Skold were the first beginning farmers to use the plot. "It allowed us to push ourselves."
An 'Odd Acre'
The incubator acre got started a bit by accident in 2011. The first interns on A to Z were Farm Beginnings graduates Betsy Allister and Andrew Ehrmann, who went on to start Spring Wind Farm, a successful CSA in Northfield, Minn. After that, Racer and Skold served an internship on A-Z in 2010 and, at Allister and Ehrmann's urging, took Farm Beginnings the following winter. By 2011 they had solid training under their belt and were ready for the next step in their agricultural career. But the young farmers, who were in their late 20s at the time, were having a hard time finding land.
As it happens, in addition to their own farm, Fisher and Bannen have access to 12 acres adjacent to their property that's owned by Bannen's sister, who lives in Ohio. On the property is an "odd acre" that works well for producing vegetables, as well as a house. That acre needed farmed, and the house needed to be occupied to keep it from falling into disrepair.
"I think we originally offered it to Pete and Anna because we thought they might stick around," recalls Bannen. "It was an informal conversation—we never thought of it as an incubator in the formal sense."
Racer had seen a similar incubator acre while interning at Foxtail Farm in Osceola, Wis., and she and Skold used that extra year at A-Z to launch Waxwing Farm, a 25-member CSA. They also sold produce at a farmers' market in the Twin Cities and raised chickens and a couple of pigs for customers. Racer says that year on the small plot gave them the confidence to try a variety of things, since they were not heavily invested in purchased property.
"We knew we had Ted and Robbi's support and we didn't have all this debt," says Racer.
Soon after, Racer and Skold bought 40 acres south of the Twin Cities and moved the operation there to be closer to that market. Since then, Waxwing CSA has grown to almost 100 members, and Racer and Skold recently added more hoop house space to extend the growing season (to read a recent Land Stewardship Letter profile of Waxwing Farm, click here).
Mike Loeffler concurs that an incubator can be a good way to forge a critical link when considering farming as a career. He and Julie Benda had served an internship on A to Z in 2011, and, at Bannen and Fisher's recommendation, took Farm Beginnings the following winter. In 2012 they came back to A to Z to raise produce on the mini-plot.
"It was a really nice progression of things," says Loeffler. "You can work on farms almost endlessly without having those critical experiences you need to succeed."
They sold their produce at the Red Wing farmers' market and a local restaurant, and sales "exceeded expectations," says Loeffler.
Bannen and Fisher loan out equipment and offer advice when it's asked for, but otherwise the mini-plot farmers are pretty much on their own.
"I barely have time to do my own work," quips Bannen. "I'm not going down to snoop around on your little acre."
But Loeffler says it was invaluable knowing that when needed, expertise was available literally just a few hundred feet away.
"It could be something like a pest infestation that we would spend hours on the Internet freaking out over, and we could talk to Robbi or Ted and learn exactly what it was," he says.
Trading Knowledge
Bannen and Fisher know full well the importance of benefiting from the experience of others. When they bought this former dairy farm in 1995 and expanded their vegetable raising enterprise from a few gardens to larger, contoured fields, information was hard to come by.
"We didn't know anyone who raised vegetables to market," says Bannen, 55. One marketing system they were interested in was Community Supported Agriculture. Also called CSA, it's a system where people pay up-front to join a farm. In return, they get deliveries of food, usually produce, throughout the growing season.
"It's hard to remember that pre-Internet era, where you couldn't just say, 'Oh, CSA, I'll just look it up,' " says Fisher, 56.
They were eventually able to network with other innovative farmers, and today A to Z has a small CSA enterprise and a thriving weekly pizza night business which runs from March to November and produces most of their income. At the peak of the season, around 1,000 people can turn up at the picturesque farm for fresh brick oven pizza made from ingredients raised on the farm.
Fisher and Bannen see working with beginning farmers through internships and the incubator acre as not only a way to pass on some of their hard-earned knowledge, but to get exposed to new ideas themselves.
"Teaching forces you to look at how you do things and look at what the reasons are for how you do things," says Fisher.
Homework
Barry is asking a lot of questions this growing season as she pursues a dream she's had since she began doing wilderness trips as a teenager: making a living working outside. After studying ecology at Washington University in Saint Louis, Barry did internships at CSA farms in Minnesota and Wisconsin. She approached A-Z about interning, but the timing didn't work out. Even so, Bannen and Fisher invited Barry over for lunch to talk about her farming future.
"Even though we couldn't hire Lauren I knew it was a connection I didn't want to let go of," says Bannen. "It was very obvious she had something."
That something was the ability to work outdoors for extended periods and a good idea of where she wanted to go with her farming career. So they offered her a deal: she could rent the one-acre plot in 2014. But first, Barry needed to do some homework and interview other beginning farmers who had worked that plot.
So this past winter Barry not only took Farm Beginnings but interviewed Racer, Skold, Loeffler and Benda about everything from the type of soil she'd be working with on the plot to how they marketed and set up their financials. She also interviewed via e-mail 2012 incubator acre farmer Kiri Thompson, who now lives in New Zealand.
"I was interested to see how different approaches could be on the same piece of land with the same type of scenario," says Barry. "It's kind of cool to see how everyone, even in the same base situation, brings their own flavor to it. They were showing me their spreadsheets with their budgets for the first three years."
Barry says spending the winter conducting the interviews and taking the Farm Beginnings class not only helped her start thinking about what it takes financially to farm, but also to look at her personal goals.
"I went through my own process of taking an introspective look at what I really want," she says.
Some of that self-examination can take place in the classroom, but it can also occupy one's thoughts under a summer sun while kneeling between rows of snap peas. Loeffler says farming the incubator acre taught he and Benda everything from how to manage finances and time to dealing with customers. But it also helped the young couple—they are both 28— realize they weren't ready to dive into full-time farming just yet. Loeffler has a passion for woodworking and Benda is a print maker. While farming may still be in their future, they are focusing on these other endeavors for the time being.
"The experience made it clear it would be hard to pursue anything else if you farm," says Loeffler. "It can be all-consuming."
Taking Root
Fisher and Bannen's strategy for giving Barry her winter homework was two-fold: for one thing it gave her an opportunity to see what she was getting into. They also hope her notes will serve as a basis for documenting season-to-season experiences before they are lost. This information may come in handy if the incubator acre ever becomes a more formal entity—ideas include making it a nonprofit education center.
"Is there a consistent pattern of what farmers are experiencing? And if we do want to formalize it, what would that look like?" Fisher asks.
Whatever the future holds, the incubator acre is taking on the trappings of permanence. Not only is it accumulating agronomic and intellectual history, but also some physical infrastructure. Past farmers have added a deer fence and a walk-in cooler. Barry's contribution is a new compost pile.
This spring, Barry worked as an employee of A to Z, along with interns Liz Davey and Steve Jones, who recently took LSP's Farm Dreams class. Like her incubator acre predecessors, this summer she is splitting her time between A to Z and the mini-lot. Barry's Dancing Gnome Farm has an 11-member CSA enterprise and is selling at the Hopkins, Minn., farmers' market. Her near-term goal is to farm part-time, using other employment to fill in the financial gaps—one thing all of the mini-plot farmers learn is that producing food on an acre doesn't provide a full-time living.
"I can dream farther ahead, but in terms of planning farther ahead, it's kind of hard at this point," says Barry on a rainy afternoon as she heads out to check on A to Z's fields and hoophouses with Davey, Jones, Fisher and Bannen.
During the impromptu tour, it's clear Bannen and Fisher enjoy having so much young energy on the farm, especially now that they are empty nesters—all three of their children are in their 20s and are off on their own adventures (one, Emmet Fisher, farms with his wife Cella Langer near Mount Horeb, Wis.; they are 2013 Farm Beginnings graduates). Bannen says the relationships they've forged with beginning farmers over the years are about more than passing on the nuts and bolts of raising food.
"There are also the things on the level of what happens when you share your lives and you're doing management and mentoring," she says. "That's stimulating for us. We need these young people."