2023 Meander Art Crawl in the Upper Minnesota River Valley: Sept. 29-30, Oct. 1
The award-winning Meander Art Crawl is a free, self-guided tour of artist studios featuring 40 local artists — including several LSP members — from the Upper Minnesota River Valley. We encourage visitors to visit artists in their own environment who celebrate a lifestyle that represents the small, handmade, personal, and local culture of the area. This event has more than 30 individual studios in and near the western Minnesota communities of Ortonville, Appleton, Madison, Milan, Dawson, Montevideo, and Granite Falls.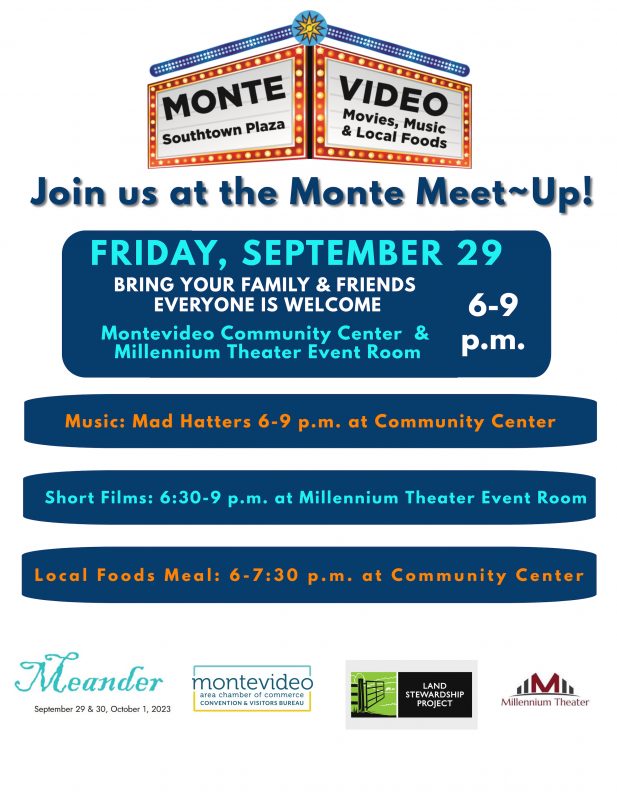 Monte Meet-Up Sept. 29
While doing the Meander, plan on participating in the Monte Meet-Up on Friday, Sept. 29, from 6 p.m. to 9 p.m., at the Montevideo Community Center and Millennium Theater Event Room. There will be music by the Mad Hatters, the showing of the locally shot "Foreclosure" and other short films, and a local foods meal LSP is helping put on.
Community Food Asset Mapping in Western Minnesota
The Land Stewardship Project has held a series of meetings in western Minnesota where farmers, business owners, local government officials, and consumers shared their insights on what's needed to create a community-based food system that's good for the land, our communities, and local economies. During these meetings, "asset mapping" exercises were undertaken to determine where we are currently at in terms of accessibility to community-based foods. For more information, click here.
Food Talk
Check out these LSP Ear to the Ground podcasts on the role community based foods can play in revitalizing communities in areas like the Upper Minnesota River Valley:
• Episode 282: LSP's Amy Bacigalupo talks about why the organization is diving deep into helping communities build food systems that can stem the tide of commodities (and wealth) leaving the land.
• Episode 283: Ken Meter draws on decades of community analyses to explain why agriculture will never be truly regenerative until we fix our dysfunctional food system.
• Episode 284: From Kris Shelstad's point of view, an empty building on Main Street is packed full of opportunities for revitalizing her hometown's economic and cultural life, one conversation at a time.