A group of prospective farmers gathered recently for a Land Stewardship Project Farm Dreams workshop at Gale Woods Farm in Minnetrista, Minn., to network and identify next steps in their journey into farming. Farm Dreams is a four-hour workshop designed to help people clarify what motivates them to farm, get their vision on paper, inventory their strengths and training needs and get perspective from an experienced farmer.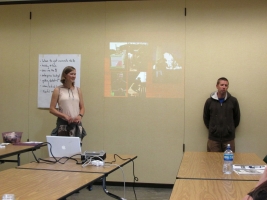 This workshop has proven to be a vital step for people considering farming as a career as it allows participants to hear firsthand from beginning farmers and start to put their dreams onto paper in terms of an action plan.
Farm Dreams participants ask critical questions about farming—from economic viability to ways of accessing land. Through a variety of exercises, participants create action steps for the coming months to move them closer to their farming dreams. Additionally, they learn of essential resources available to them as they move forward.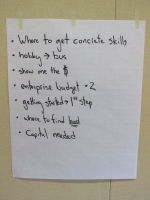 During the recent workshop in Minnetrista, Irene Genelin and Andy Cotter of York Farm in Hutchinson shared their farm story with participants. Irene and Andy talked about their journey, highlighting education and working with mentors as a key component of their success. They are graduates of LSP's Farm Beginnings class as well as participants in the Journeyperson Course.
For more information on upcoming Farm Dreams workshops, click here, or contact me via e-mail or at 320-269-2105.
Nick Olson, who farms near Litchfield, Minn., is the facilitator for LSP's Farm Dreams workshop.