On an afternoon in late June, west-central Minnesota farmers Anne and Peter Schwagerl walk out of the bright
sun into the deep shade of an old granary that has six separate storage areas for various kinds of harvested crops—a throwback to an era when most Midwestern farms produced more than corn and soybeans. On many farms, old buildings like this fall into disrepair, or at best are used as storage for odds and ends. But standing in the middle of this particular granary is a tall, year-old piece of equipment that houses a hammer mill and tumble mixer. It's a feed mill, and it represents an attempt on the part of the young farmers to make raising a diversity of grains pay off financially by forging a critical link between their cropping and livestock enterprises.
The planning and pencil-pushing that went into making this feed mill a reality also represents another important step for the Schwagerls' budding farm business: they are learning to, as they put it, "channel" their enthusiasm, something the young couple—they are both 32—concede is not always easy, since they are passionate about everything from good food and community involvement to experimenting with sustainable farming methods.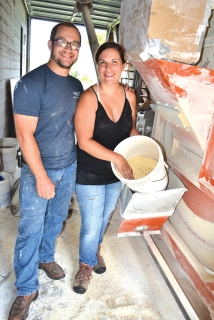 "There are always new things, so many neat ideas, out there," says Peter. "So, trying to find out how to work those great ideas into your farm requires constant experimentation and taking that feedback and coming up with the next step forward. It really makes it rewarding and exciting."
The Schwagerls feel better equipped to channel all those passions into practical, profit-making enterprises thanks to the nuts-and-bolts basics of enterprise analysis and business planning they received through the Land Stewardship Project's Farm Beginnings course a few years ago. And such skills will come in handy as they further pursue creating a farm that is a fully integrated "seed-to-finish" business consisting of a greater diversity of crops, as well as livestock.
A Moving Feast
Anne likes to joke that their life goal is to "eat like kings," but a certain meal played a serious role in the couple choosing their current profession. Peter grew up on a crop farm near Browns Valley, and for a time Anne's family ran a pick-your-own strawberry farm in Rice County, near the Twin Cities. But immediately after high school, neither seriously considered farming as a career. They met while attending college in Minnesota, and Anne later worked for the National Geographic Society in Washington, D.C. In 2010, while Peter was getting his master's degree in kinesiology at Kansas State University, the couple attended a farm-to-table dinner—one of those events where a chef teams up with a farmer to present a locally-sourced, multi-course meal.
"At that point in my life, that was probably the top meal that I had ever eaten," recalls Peter.
Later, the Schwagerls carried that pleasant mealtime memory with them while living in north-central Florida, where Peter was pursuing a doctorate in applied physiology. They frequented the local farmers' market, and through that connection ended up working during the summer on a local pasture-based multi-species livestock farm. That experience quickly evolved from a way to bring in extra cash while getting a break from the classroom, research lab and office, to a peek into how farming could be done in a way that connected stewardship of the land and people's supper tables. That summer, the Schwagerls also learned they could work together as a team.
"That was huge," says Peter.
Overall, that experience helped Peter decide that the research/academic path was not for him, and he decided to leave graduate school. Anne, for her part, was ready to leave office work and connect with a rural community. During the winter of 2012, they moved to Browns Valley, and by spring were farming with Peter's father, Jerry, who had been looking for help on the farm he produces crops on. Jerry raises non-GMO crops and had an interest in producing organically, but found it difficult to do it on his own.
Peter and Anne admit that they thought crop farming would be relatively straightforward, and that they would be able to simply plug in other innovative enterprises they were interested in during their "spare time." Easier said than done.
"We thought the crops would pay the bills and then we could experiment on the livestock and other enterprises we had interest in," says Peter. "But we found out crop farming was more time consuming than we thought."
On top of that, their first child, Nora, was born that year (they also have a 1-year-old, Ben), stretching them thinner and leaving less time to pursue new farm ideas. It became clear they needed a healthy dose of training in enterprise analysis and business planning.
"Enthusiasm will only carry you for so long," says Anne. "At the end of the day, this is our job and we've got to be able to keep our lights on and pay our bills and feed our kids. We needed to figure out how to make a living doing this."
After that first growing season, the Schwagerls enrolled in LSP's Farm Beginnings course. During the winter of 2013-2014, they and other participants in the course learned from established farmers and other agricultural professionals about business planning, goal setting and analyzing the viability of various enterprises and how they could mesh with each other in the bigger picture. Through the course, the Schwagerls were able to network with other beginning, as well as long-established, farmers who were doing the kind of agriculture they were interested in: organic cropping and pasture-based livestock production.
Farm Beginnings also introduced them to a practical way to keep their financial house in order long after finishing the course. Through the class, the Schwagerls enrolled in the Farm Business Management Program, which is operated by the Minnesota State Colleges and Universities system. Through that program, they work with an instructor who helps them manage their finances utilizing accounting tools such as QuickBooks. That experience has introduced them to the world of balance sheets and cash flows.
"Farm Beginnings was great for teaching ways to make different enterprises on the farm work in synergy with each other, and not just being siloed, to use the farm metaphor," says Anne.
The importance of such synergy became evident soon after the Schwagerls began raising hogs a few years ago. Since they planned to direct-market the pork, they wanted to give the animals high-quality feed free of GMOs, hormones and antibiotics. The Schwagerls rent 300 acres from Peter's parents, Jerry and Renee. In exchange for the use of Jerry's machinery, Peter and Anne also help Peter's father farm an additional 540 acres. They grow wheat, corn, soybeans, barley, alfalfa, oats and barley. Half their acreage is either certified organic or in transition to being certified.
But they were frustrated that they were shipping their crop production off to outside markets, and then turning around and spending money to buy high quality feed for their hogs. The Schwagerls feel particularly strongly about adding economic value to some of the small grains and forages they raise—crops that may not have a high value in the marketplace but are good for the soil. Livestock can provide a financial justification for keeping such plants in the rotation.
"We can turn around and pay ourselves a living wage for those crops by feeding them to our animals," says Anne.
So, in 2014 Peter and Anne began investigating the feasibility of installing a feed mill on their farm as a way to process their own crop production. They developed a business plan that made a winning argument: it just didn't make sense to bring purchased feed onto the farm when they were already raising much of it on their own land. They just needed a way to fill in the gaps by processing it. They received financial assistance through the Lakewinds Co-op Organic Field Fund, as well as the Minnesota Department of Agriculture's Livestock Investment Grant. Those grants were critical, since they helped prime the pump and gave them leverage to approach the USDA's Farm Service Agency about receiving a loan to cover the rest of the $32,000 price tag.
That's a significant investment, but it penciled out when compared to not only the cost of purchasing the feed, but the time and fuel spent transporting it.
"Being able to go through on the spreadsheet and map it out, that really helped show how we can make it pay," says Peter.
The feed mill, which was installed in 2016, is located on Peter's parents' farm, just a mile down the road from where the Schwagerls live and where their operation, Prairie Point Farm, produces around 40 hogs a year for direct-to-consumer sales.
Confidence Builder
As they stand next to a pen full of pigs that are fast approaching market weight as a result of a feeding regimen consisting of a mix of grain and diverse patches of cover crops—radish, sun hemp, sorghum Sudan grass, field peas, barley and wheat—that the animals are rotated through, the Schwagerls talk about how the process of planning, financing and installing the feed mill has given them the confidence to pursue some of the other enterprises they're enthusiastic about. For one, they'd like to expand their certified organic cropping acres enough so that the hogs could qualify for organic meat markets. They estimate they will reach that threshold of organic acres within two years.
The Schwagerls raise a few chickens now as basically a hobby, and they would like to make that into a money-making enterprise. The young farmers are also interested in adding other livestock, such as cattle and sheep. That would require investing in fencing and watering systems to set up an extensive managed rotational grazing infrastructure. Such a step means another, as they put it, "education project," as well as some more financial investments.
"It would just fit in so nice," Peter says of adding ruminants to the mix. "You start adding some of those layers and some of that diversity into the farm, and once you get to a certain level it just works so nicely. Like, we're trying to grow alfalfa because it's good for our soil. Why in the heck don't we have an animal that can eat it and recycle it back onto our own land, instead of shipping all our nutrients off as hay to wherever?"
Closing some economic, agronomic and environmental gaps on the farm is key, says Anne. But, she adds, let's not forget another major reason adding new species of livestock is important: it's another chance to produce a good tasting product.
"We joke that our children are food motivated," she says. "Well, I am food motivated. Everybody ought to be."
Brian DeVore is the editor of the Land Stewardship Letter.